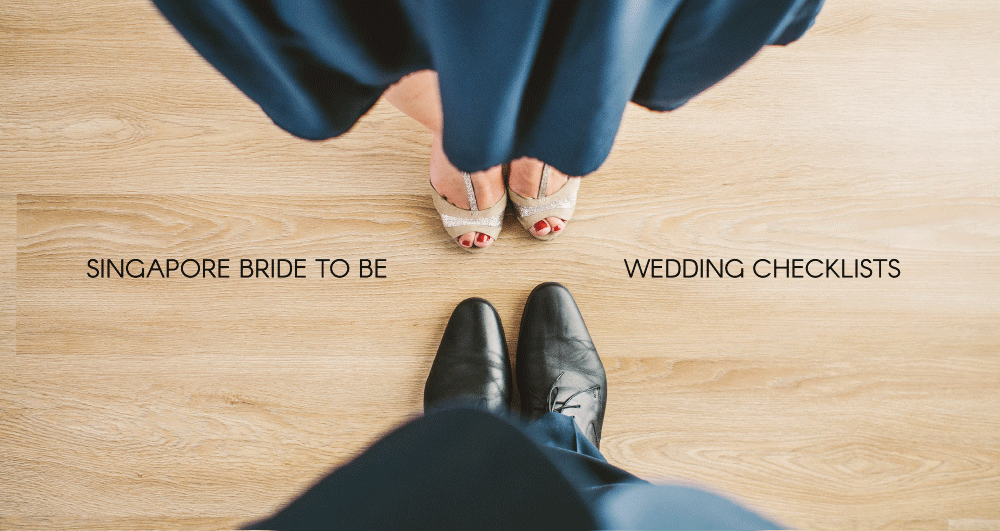 Finally he proposed to you and you are so excited about it but at the same time you can feel the tension for the wedding preparation.

It's the first momentous project that you and him will be doing together for the next 1 year or so before your final big day arrived.


Here's The Ultimate Singapore Brides To Be Wedding Checklist for a well plan and organized wedding day.


▪Set Solemization date and Wedding Date
Suggested to Read:
– Guide to Choosing an Auspicious Wedding Date

▪Arrange a dinner for parents, in-laws and partners to discuss on wedding expectations.
Make sure you make a reservation at the restaurant first to avoid any disappointment when you turn get turn down by a fully booked restaurant.
▪Decide on the wedding size, theme and budget
Discuss with your spouse, parents and in laws to estimate the number of guests you want to invite and set yourself a budget to work within the budget.
Suggested to Read:
– 10 Smart Weddding Saving Tips to help Singapore Brides
– Wedding cost in Singapore can be shockingly high

▪Book your Wedding Venue
There's so many factors to consider before looking for the right wedding venue. From costs, room size, table capacity, outdoor or indoor, the theme, number of projectors, any pillars and most importantly what's in the package?


▪Book your Solemization Venue
(If this is a different day from the actual wedding day.)
▪File a notice of Marriage online.
You have to file a notice www.rom.gov.sg at least 21 days to your solemization date.
▪Book a Licensed Solemnizer (LS) for your Solemization day.
List of rom solemnizers can be found here.
▪Start your facial now.
Preferably 1-2 times per months depending on your beauty consultant's advice. Consider signing up with a facial package to help you save more. 


▪Book a Pre-Wedding Photoshoot: For the wedding album
Suggested to Read:
– Choosing The Perfect Wedding Photographer in Singapore: A Guide for Singapore Brides to Be
– 80 Stunning Places to Take Photos in Singapore for your Wedding Photoshoot
▪Book Actual Day Wedding Photographer & Videographer
Suggested to Read:
– 50 Best Wedding Photography in Singapore
– 50 Best Wedding Videography in Singapore
▪Sign up a Package with the Bridal shop.
Suggested to Read:
– Choosing a bridal shop? 5 things no one tells you about choosing a bridal shop
– 20 Awesome Bridal Shop in Singapore
▪Book your Wedding Car Rental Service
Suggested to read:
– How men and women choose their wedding car in Singapore
– 8 Most Popular Wedding Cars You Can Rent in Singapore



▪Invite your Bridesmaid and Groomsmen to Help you on your Actual Day Wedding.
Always get either 2, 4, 6, 8 or 10 bridesmaid/brothers to help you. Never invite in odd numbers as even number represent good luck under the Chinese customs.


▪Draw up Your Tentative Guest List.
Draft out and tabulate your guest list in an excel sheet and group them in a table of 10. This will help you prepare and estimate the number of guest and their seating arrangement in advanced. in this case, you may have time to inform the hotel manager to increase or decrease the no. of reserved table.
▪Wedding Childhood Photo Montage (DIY or Outsource it.)
Suggested to read:
– Tips on making your own wedding photo montage
– Top 3 Photo and Animation wedding montage service in Singapore
▪Make your own Wedding Ang Pow Box or Guest Book if you are Planning to Do It Yourself.
Suggested to read:
– 7 Wedding Ang Pow Box Ideas You Can Steal From
▪Book your Hair and Makeup Artists and Ask for a Trial Session.
Suggested to read:
– 20 Wedding Hair and Makeup artist in Singapore that are highly raved

▪Go for your Pre-Wedding Photography Shoot. 
Suggested to read:
– Pre Wedding Photoshoot Checklist: What to Bring and Prepare
– 22 Easy Peasy Wedding Poses to Get you Started


▪Do your Shopping!
Things you might need to get are wedding shoes, nu bra, eyelash glue, jewellry, colours pens for the guest book, ring pillow and his tie, shoes, shirt etc
▪Buy your Engagement Rings with your Spouse
Ion Orchard is the best to do your wedding rings shopping with your spouse. Most of the shops are just side by side which means you can hop to the next shop beside it. 
Shops you can find at Ion Orchard: Citigems, Lee Hwa Diamond Promenade, Love & Co, SK Diamond, Soo Kee Jewel Pavilion, Taka Jewellery Treasures, Tiffany & Co., Cartier, SK Jewellery and Goldheart.
▪Start Planning for your Honeymoon!
We all know that Wedding is expensive in Singapore. Therefore, consider booking your trip from TripAdvisor, expedia or Agoda. They are certainly cheaper. Not to forget, get cashback up to 8% if you use shopback to book Tripadvisor, Expedia or Agoda.
▪Bring your Mum and your Mother in Law to Shop for their Dresses.
Suggested to read:
– 15 Awesome Mother of Bride Dress Shops you can find in Singapore
▪Bring the Bridesmaid and the Groomsmen to Choose their Outfits.
Suggested to read:
– 10 Best Place to Shop for your Bridesmaid Dresses
▪Order the Wedding Favours if the Hotel Banquet does not Provide any.
▪Shop for Guo Da Li with your Parents
Suggested to read:
– Guo Da Li Preparation: Everything You Need to Know About Chinese Betrothal Wedding Ceremony
▪Shop for Dowry with your Parents
Suggested to read:
– 嫁妆: Dowry Chinese Wedding Preparation
▪Other Things you Might Consider to Book:
Tips: Book early to avoid disppointment as peak months are usually fully booked. Such as Photo booth, DJ, live band, florist, wedding cake, dessert table
▪Select your Pre-Wedding Photos for your Album.

▪Discuss the Gatecrash Games with the Bridesmaid

▪Shop for Gatecrash Props.
Leave the job to the bridemaids if they are creative enough.


▪Confirm  Hotel Bookings and Travel Arrangements for your Honeymoon.
▪Go for Food Tasting Sessions

▪Confirm Details in the Wedding Cards and Send for Printing.
Tips: Remember to check with your parents and in laws on the details before sending it for printing.


▪For Overseas Guests, Arrange Logistics and Brief Them on Local Wedding Customs.
Tips: You can always check with you hotel banquet manger to get a discounted room rates if you are planning to quite a few numbers of rooms. Alternatively, visit Agoda to book the rooms.
▪Compile the Excel Speadsheet for the Programs Itinerary, MC Speech, Reception Details, Task List and RSVP-ed guest list.
Tips: You will need to compile all these details and send it out to all helpers prior to your big day. You need to keep them updated!


▪Order your Guo Da Li Cake
Suggested to read:
– 16 Best Guo Da Li Cakes Shops you will love
▪Send out all Wedding Invites.

▪Prepare your Guo Da Li and Ang Chuan Ceremony

▪Arrange for a Ceremonial Rehearsal if needed.

▪Order your Wedding Catering Food During your Big Day.
Tips: This buffet setup is for your family, relatives and friends who are attending for the tea ceremony session (Both the Bride and Groom's side) which will usually happen same day as your actual day. See program itinerary for more details.
▪Order Extra Wine if you have Guest who really can Drink
▪Confirm Banquet Menu, Décor, Chair Covers, Linen and Invitation Card Details with your Banquet Manager.
Tips: Your banquet manager should have contacted you regarding about these details 1-2 months prior to your big day. Please take note of special diet menus if you have guest who are vegetarian or takes halal food etc.


▪Make an Appointment for a Manicure, Pedicure and Hairdresser for a Hair Cut and Colour.

▪Reminder: If Your Solemnization Happens on the Same Wedding Date
Tips: File a Notice of Marriage at ROM and Book a Licensed Solemnizer at least 21 days Prior to Your Solemization Date.
▪Apply Your Leave with your Company


▪Schedule a Final Dress Fittings for your Gowns and Suit
▪Select your March in Song:
Tips: Choose 1 Song  for Solemnization March-in and 2 other Song for Banquet Hall March-in.
▪Enjoy your Bridal Shower or Hen's Night.

▪Arrange a Meet Up Session with the Bridesmaid and Groomsmen
Tips: Introduce one another, run through the program itinerary and task list, pass them a copy too. Any updates can communicate through Watsapp and send through email.
▪Re-confirm Dinner Attendance with the Invited Guest.
▪Arrange a Discussion with your Solemnizer so you and the Solemnizer Knows What is Expected.


▪Finalize All Details
Tips: You should have finalized the actual day itinerary, dinner programs, speechs, transport, flowers and music arrangements etc. Send a copy of the details to those who are helping you including photogrpahers, videographer and makeup artist
▪Prepare Tokens and Ang Pow for Those Who Help You
Tips: Ang Pow Car opener, young siblings, nephew and niece, photographer, make up artist, bridemaids and brother.
▪Contact Your Photographer, Videgrapher and Make Up Artist.
Tips: They need to know what time they are suppose to arrive. Send them the itinerary if you have not do so.
▪Send the March in Songs to the Banquet Manager, Musician or DJ who are Helping You.
▪Appoint Someone you Trust on the Important Task
He/She to take care of your dowry during tea ceremony, valuables and make up emergency kit during the journey and Angpow box after the reception duty is over.
▪Tidy Up Your Room.

▪Trust me, you can finalize your seating arrangement plan 1-3 days before your big day.
This is base on personal experience as well as most of my friends. Why? This is due to the late submission seating arrangement your parents will provide you as well as the late inform and last minutes cancellation no show.
▪Pick up your Wedding Gowns, Attire and Accessories
Tips: Leave the Kwa at your spouse's house as you are suppose to change it during the tea ceremony over his house.


▪Groom to pick up the rental car and hand bonquet.
▪Send a final reminder to your helper, photograpaher, solemizer, make up artist and guests.

▪Pack Your Luggage.
Bring your shampoo, make up remover, hair conditioner, mobile phone charger, ipad, laptop, clothings, slipper if you are staying over at the hotel after the night.
▪Pass your Wedding Portrait, Ang Pow Box, Ring Pillow,  Guest Book, Pens  etc to Whom is Responsible for the Task.
Tips: You should have assign someone to move these items to the hotel for you on the actual day.
▪Get your Mandicure and Pedicure Done 2-3 days Before Your Big Day.


▪Groom: Pass the wedding bands to the best man and don't forget about the hand bonquet, corsages, car décor, ang pows when you leave home.
▪Wake up 1.5 hour early to get ready before your make up artist arrive.
▪Give a token of ang pow to your photographer, videographer, make up artist, helpers, bridesmaid and groomsmen.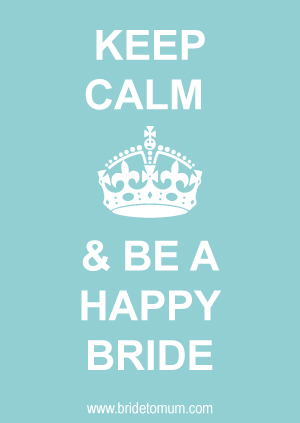 Enjoy!


▪Send a Thank You Message For All Helpers and Guests
▪Return all Loaned Items.
▪Enjoy your Honeymoon!