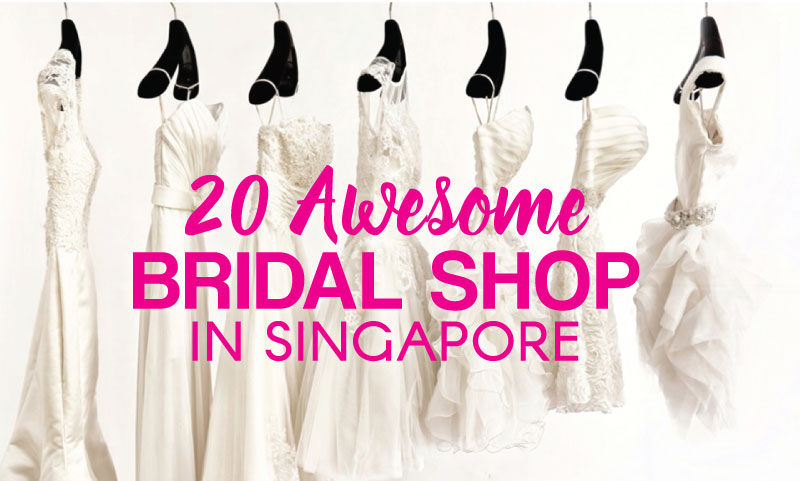 Are you searching for the perfect dream wedding gown in Singapore?
Here are 20 bridal shop Singapore with jaw-dropping wedding gown that will definitely make you linger in their shop for hours.

Take your time, visit their website to know more about these bridal shop, their offer and services. If it feels right, make an appointment with them and start your wedding gown hunt now.

You want to find a wedding gown that makes you feel comfortable, fit your body size and shape and of course making you look glamorous and stunning.




20 Awesome Bridal Shop in Singapore

Digio Bridal
Website: www.digiobridal.com


Phone: +65 6225 1612


Email:

[email protected]




Address: 69 Tanjong Pagar Road, Singapore 088490


The Gown Warehouse
Website: www.thegownwarehouse.sg


Phone: +65 6734 3998


Email:

[email protected]




Address: 11 Woodlands Close, Woodlands 11 #06-38,




Singapore 737853


LunA Bianca
Website: www.biancadiluna.sg
Phone: +65 6338 9839
Email: [email protected]
Address: 21 Tan Quee Lan Street, #01-02,#02-01,
Singapore 188108


The Louvre Bridal
Website: www.thelouvrebridal.com
Phone: +65 6337 7808
Email: [email protected]
Address: 69 Kim Yam Road, Singapore 239 368


La Belle Couture
Website: www.labellecouture.com.sg
Phone: +65 6327 3983
Email: [email protected]
Address: 87 Tanjong Pagar Road, Singapore 088508


White Link
Website: www.whitelink.com.sgKaki Bukit (Headquarters)
Phone: +65 6841 3886
Address: 60 Kaki Bukit Place, Eunos Techpark, #01-02,
Singapore (415979)


French Wedding
Website: www.frenchwedding.com.sg
Phone: +65  6333 0020 or 6837 3733
Address: 53/55 Tanjong Pagar Road, Singapore 088474


The Aisles Bridal
Website: www.theaislebridal.com.sg
Phone: +65 6289 6888
Email: [email protected]
Address: 62 Oxley Bizhub 2 Ubi Road 1, #01-24/25,
Singapore 408734


Emanuel B. Couture
Website: www.emanuelbcouture.com
Phone: +65  6227 4795
Address: 41 Tras Street, Singapore 078980


Le Grand
Website: www.legrandwedding.com
Phone: +65 6327 8880
Email: [email protected]
Address: 79 Tanjong Pagar Road, Singapore 088500



Beautiful Love Wedding
Website: www.beautifullovewedding.com
Phone: +65 6223 0638 or +65 6423 9366
Email: [email protected]
Address: 328 North Bridge Road, Raffles Hotel Shopping Arcade,
#03-07 Singapore 188719


RICO-A-MONA Bridal
Website: www.rico-a-mona.com
Phone: +65  6221 3383
Email: [email protected]
Address: 33 Tanjong Pagar Road, Singapore 088456


Trinity Gallery
Website: www.trinitygallery.com.sg
Phone: +65 63365052
Email: [email protected]
Address: 328 North Bridge Road,
#02-14 Raffles Hotel Arcade, Singapore 188719



Selette
Website: www.selette.com.sg
Phone: +65 6362 2859
Address: 186 Woodlands Industrial Park E5,
#03-01F, Singapore 757515


Belle & Tulle Bridal
Website: www.belleandtulle.com
Phone: +65 6737 5208
Email: [email protected]
Address: #03-12, Palais Renaissance,
390 Orchard Road, Singapore 238871


My Bridal Room
Website: www.mybridalroom.com
Phone: +65 6338 1908
Email: [email protected]
Address: 9 Tan Quee Lan Street,
#01-03 Tanqueelan Suited, Singapore 188098


The Proposal
Website: www.theproposal.com.sg
Phone: +65 6835 7077 or +65 9106 1286
Email: [email protected]
Address: 9 Raffles Boulevard, #01-83 Millenia Walk,
Singapore 039596


My Dream Wedding
Website: www.mydreamwedding.com.sg


Phone: +65 6438 1237


Email: 

[email protected]




Address: 33 Tras Street # 01-01, Singapore 078973


Dream Wedding
Website: www.dreamwedding.com.sg


Phone: +65 6604 8013


Email: 

[email protected]




Address: 62 Ubi Road 1, Oxley Bizhub 2 #03-09,




Singapore 408734


Bridal Zone
Website: www.bridalzone.com.sg
Phone: +65 6337 6626
Email: [email protected]
Address: 6 Raffles Boulevard, #03-307 Marina Square,
Singapore 039594
Photo Credit: Digio Bridal