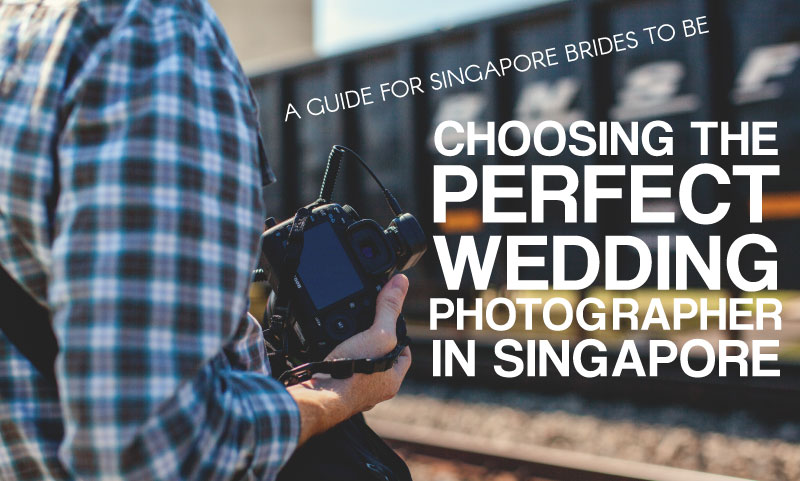 Before you enter "Wedding Photographer Singapore" to search for your wedding photographer, you probably wouldn't have thought to source for wedding photographers for 2 different occasions. Pre-wedding photoshoot and actual day wedding photoshoot.
Realizing this could actually save you more money because instead of signing up the 2 different package at different time. You could actually bargain for a discount when you sign up the 2 packages at a time with the wedding photographer.  
However, the things to note when you sign up with the photographer package is that, you will need to source for the gowns, suits and make up artist etc separately. Though, some photographers do have bridal and makeup recommendation so you probably can check with them.
Alternatively, you can also look for a bridal shop in Singapore who offered Pre-wedding photoshoot packages and actual day bridal package which include a wedding photographer. The benefits of signing up with a bridal shop is that it is a lot less expensive and the hassle free of looking for all the packages separately since their package will include things like photographer, hair and make up, gowns, suits, accessories etc.
However, the drawback is that they usually hire freelance or amateur photographer, so the outcomes of the photos are usually just ordinary. If you are unsure about the photographer skill, you can always check on the photographer's portfolio with the bridal studio before taking up the package.
Alright, I hope you have a general idea by now… 
Why do you need a Good Wedding Photographer?
It's the most important day of your life. You can have the most beautiful gowns, scenery, flowers and wedding bands and without a perfect photographer to capture your best quality moments, you memory would probably fade off after the wedding is over. And you don't want this to happen to you.
How to Choose the Good Wedding Photographer?
1. Technical and Creativity
A photographer's job is more than having a nice camera and knowing all the technical stuffs in using his/her camera. Beside being technology savvy, the wedding photographer must also posses the artistic and creative skills of capturing a picture.
As the idom goes, a picture is worth a thousands of words. So you would want a creative wedding photographer who not only know how to set their ISO and shutter speed but also know how to take photos with an unique angles and artistic shots.
To find out if their photographer has a nicely shots taken, check their portfolio and ask yourself questions like:
▪Are they shots taken with unique angles and artistic?
▪Does the shots move you?
▪Can you feel the emotions when you look at the photos?
▪For posing photos, especially pre-wedding photos, does the couple look comfortable in their pose?
▪Are there many creative and natural pose you can find in their pre-wedding album?
▪For actual day wedding album, can you spot any candid shots that are capture by the photographer's quick reaction?
2. Photography style
Determining the photography style is an essential factor to help you look for the kind of photographer you'll want to shoot for your wedding day. So let's identify the style you love the most before you start selecting for your perfect wedding photographer.
▪Scenery:


Credit: 2 of Us, Avenue 8 (Left to Right)
This is by far the most popular among the couple in the recent years. They can enjoy taking a short vacation while taking their pre-wedding photoshoot in other countries. If you loves scenery photography, you would need to find a photographer or bridal shops in Singapore that offers oversea pre-wedding photoshoot package as not all photographer provides this package. Aside from the photography style, things to note is the higher costs as you are require to pay for the local transport, accommodation and plane tickets and sometime probably the photographer and assistant's air tickets and accommodation.
Me and my husband love scenery style and we took our pre-wedding photoshoot in Taiwan while taking a mini vacation. You can read more here.

▪Romantic:



Credit: Wish Wander, Derrick Ong Photography & Happy Eyes Photography (Left to Right)
If you like romantic style photography, you must be prepare and accept photos with half crop of your face or body, silhouette shoots. backview shots and probably larger portion of the scenery while having tiny portion of you in the picture. While these romantic and artistic shoots cannot be avoided, you probably end up choosing 1 out of 10 shots or probably none of such images taken. I don't mean all shoots would end up like this but the photographer would end up taking a few shots like this so just be prepare when you are browsing at portfolio like this. Ask yourself if you are okay with such shots if the package allows you to choose 30-40 photos out from all the photos taken. Of course, if the package include all photos to be return, you wouldn't have to worry this at all.
Tips: If you like romantic style, you can choose a nice scenery location like Paris or Korea or if you have a budget constraints, try looking at local bridal photoshoot with romantic indoor setting or places like Chijmes would do great as well.
▪Witty Idea:



Credit: Raymond Phang Photography and Pixioo (Left to Right)
Some photographer are creative enough to use props to their full advantage and some are creative enough to take angles to make the story of the photos witty. These photographers are hard to find and probably only the professional photographers who has years of experience in wedding photography or only those who has a little more artistic flare would be able to think of these witty idea.
And of course if you are creative enough to come out with funny ideas, you can always talk to the photographer of what you had in mind and shoot it accordingly.

▪Classic Portraiture:


Credit: onethreeonefour, Kang Pictures and Eggs Benedict Chan (Left to Right)
If you prefer classic portraits like the one you've seen in your parents' wedding album, you can look for a traditional photographer who specializes in this area. These are posed shots of the two of you standing very still, holding hands together, looking at one another or looking straight into the camera. Sometimes with your friends and family standing behind as a backdrops. This style is usually most likable by couples who love retro, classic and probably is an arty farty artistic designer.
▪Casual and Documentary:


Credit: Eggs Benedict Chan and Confetti Peektures (Left to Right)
The casual photoshoot style is most suitable if  you have a memorable moments or love story to share. Just pick a location where you first date him/her, activities that both of you always does together or capture the wonderful moments with your pets…
The great thing of hiring a photographer to document the casual shots are probably having the excuse to wear the causal outfits under the hot sun in Singapore and saving huge amount of money by renting the wedding gown and suits. Beside that, the casualness of the shoot can be done anywhere in Singapore which means inexpensive.

3. Personality check
The photographer's personality may not be the first thing you think about when you choose for a wedding photographer, but it will definitely be one of the most important factor just before you are about to confirm for the package.
Photographer are the one going to capture the most important day of your life, so you need a photographer that you are comfortable with, one that you can trust leaving all the responsible to, and whom your friends and family can probably click as well. You wouldn't want to hire a photographer who can speak only English while majority of your friends or family speak Chinese don't you?
So rather than signing the expensive package right away, you would want to schedule a consultation meet up to do a personality check with him/her.
Things you might also want to check during the consultation are:
▪What camera will he be using (I like photographer who owns a Canon EOS 5D Mark III because they are for professional photographer.)
▪How many years of experience he had working in the wedding photography industry.
▪How many projects he usually have during the month of your wedding.
(This is to check how long he'll needs to return your photos after the wedding)
▪Browse their recent works: Pre-wedding and actual day wedding album. Trust me, some photographer might be great at taking pre-wedding photos but not on actual day wedding shoot. 
▪Negotiate! Things you can negotiate are…
Ask for more prints, discount to print extra pic or coffee book, free upgrade of album, FOC for extras charges like early morning or childhood video montage etc. Believe me! Usually face to face negotiation works better than asking through the email.
4. Value for Money and Costs
So what's in the package? What do you want in your package? Are they worth it?
Here are some questions you can check with the wedding photographers or bridal studio package.
Pre-Wedding Photography



(Local Wedding Photoshoot)
How many photos will be return to you?

Do I keep softcopy of the photos?

How much do I need to top up for additional photos or full return photos if required.

How many photos do you usually take? This is especially so for unlimited photoshoot in your package.

How many photoshop edited photos will be return?

What size, pages and material is the wedding album?

Is there any coffee book given? What size, material and pages?

How many photoshoot locations can you choose?

Any assistant to follow the photographer?

Any miscellaneous charges not mentioned in package?

Is transport provided?

Is canvas photo with frame given? How big?

What's the payment like? Deposit, full payment or installment? Cash or credit card?
(Overseas Wedding Photoshoot) Additional questions to check
Does it include your air-ticket and hotel?

Do you need to pay for photographer and assistant's air ticket and accommodation?

Does it include local transportation? If it doesn't, will the photographer make the arrangement? How much?

Where are some of the locations he recommend for shooting? How many location can you pick?

Is there any makeup artist, gowns, suits included? Otherwise, will he/she make the arrangement? How much?

How many dresses, suits, makeup and hairdos change provided in the package? Any additional top up for ampule or eyelashes?

For photo album printed overseas, how much estimate do you need to pay for the courier fees.
Actual Day Wedding Photography



Is the date available during your actual day wedding?

Are all photos return in DVD format?

How many photoshop edited photos will be return?

Is there any coffee book or album given? How many pages?

Any early morning charges if you need him to arrive early in the morning?

How many hours service? How much is additional hours if you need him to stay longer for dinner photoshoot?

Can you spread the service hours for the day such as 5-11am and 5-10pm?

How long does it take to return all the photos to you after the wedding?

Is he/she driving?