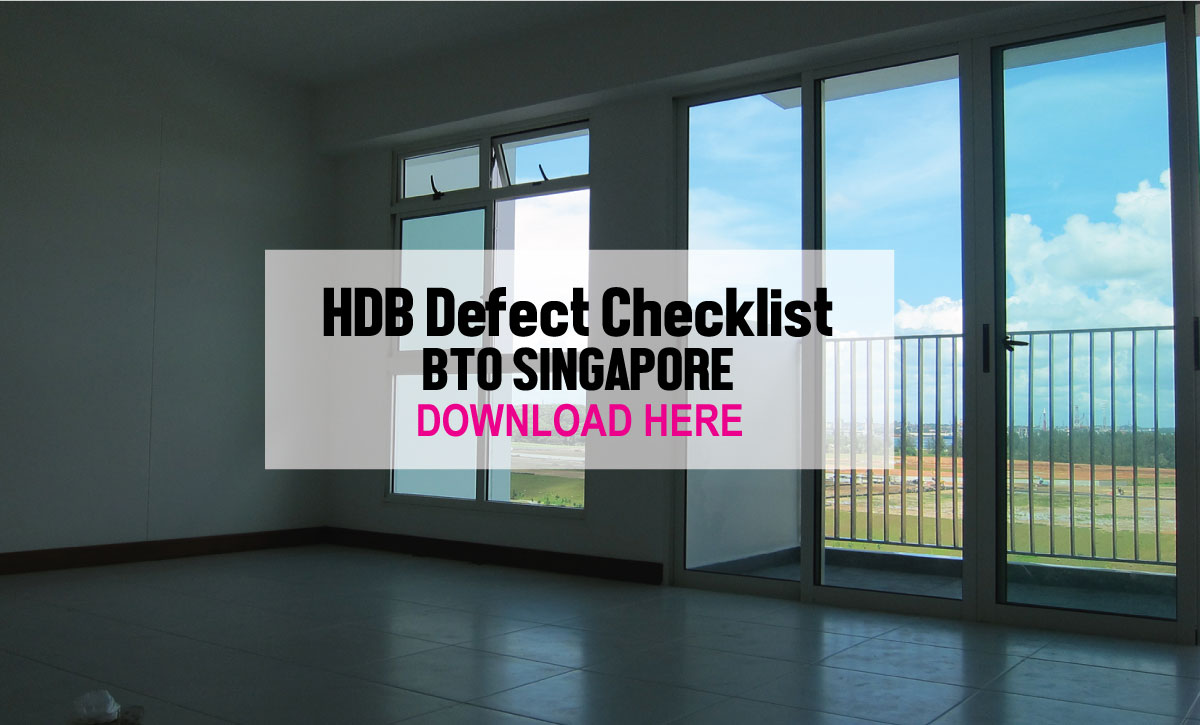 So we got our key and decide to check in the flat with the HDB defect checklist on hand on the same day.
You can read my previous blog post on the key collection process here.
Beside downloading the HDB defect checklist, here's what I think you should know and prepare before entering the house to do your defect check.
1. PICK AUSPICIOUS DATE TO OPEN DOOR
After receiving the updates from HDB on the key collection date, find out and pick an auspicious date to open the door. For us, it happens that we can do it on the same day upon collecting the house key. Check with your parents what to bring along for the open door ceremony.
2. HDB DEFECTS CHECKLIST FEEDBACK FORM 
A set of HDB defect checklist feedback form(Provided by HDB whn you collect the keys) will be given to you upon collecting your key.
This is how the form looks like.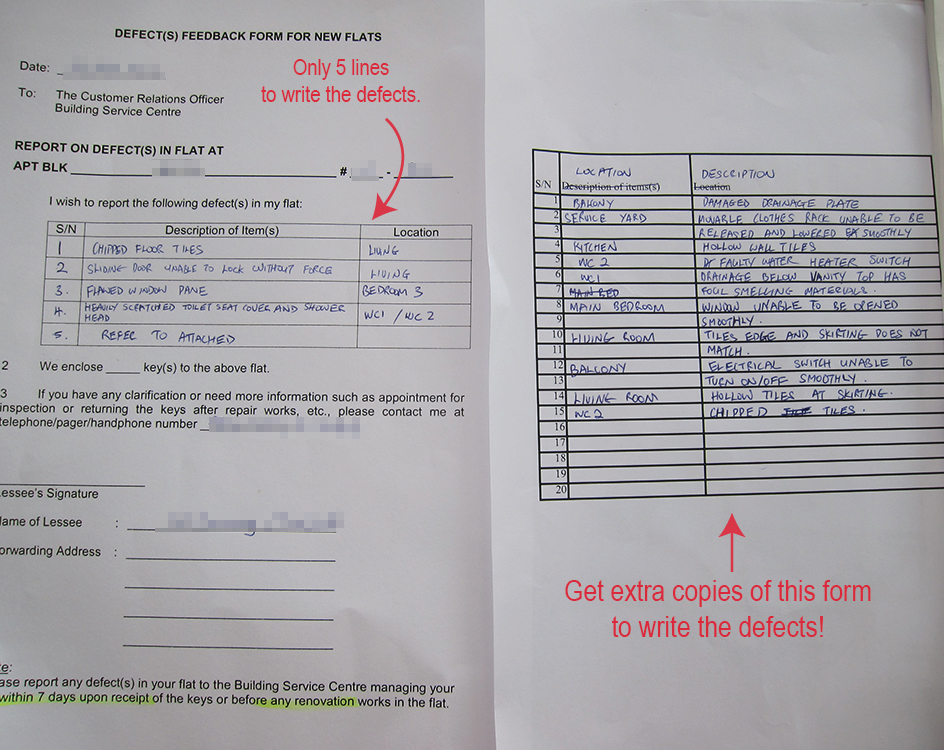 As you can see, there's only 5 lines for writing and reporting the defects, which means you will likely need extra copies to write the defects, so get more copies from them, otherwise you can download it here.
You are required to report the defects in your flat to the building service center managing your flat within 7 days upon receipt of the keys or before any renovation works starts.




3. DOWNLOAD HDB DEFECT CHECKLIST
As a first time house owner, we might miss out a thing or two during the defect check. To be safe, I've found the defect checklist online which I find it quite comprehensive but I've made some changes to it. Make sure you check everything, else once the renovation starts, it will be hard to get HDB to do any rectification.
Here's the HDB defect checklist (3 pages) which you can download HERE for FREE.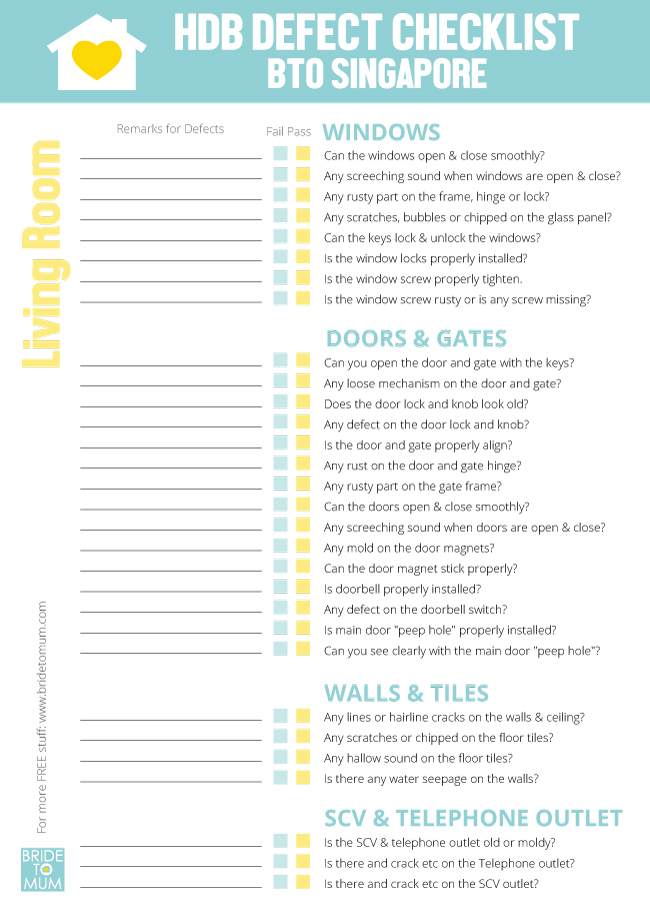 4. THINGS YOU NEED FOR YOUR HOUSE DEFECT CHECK
▪ Tapping rod or pole
This is the tile hollow checker which you can get from most hardware stores. Don't ever use coin, that is tedious and backache process. We are lucky that we don't have many hollow tiles.
▪ Markers & masking tapes & duct tape
I  use marker to write the defects descriptions on the masking tapes. Remember to write the numbering down so it will be easier for anyone to refer back to the defect feedback forms. At the end of the check, I use colour duct tape to box out the defect so it will be easier to spot it rather than the camouflage masking tape pasted on the white flooring or walls.
▪ Stools x 2
You can rest on the stools when you get tired since the house is dusty and you don't want to rest on the floor. You can get the stools from Ikea, only $5.90/each.
▪ Old Newspaper or Magazine
You need a clean surface to put your belonging like bags, mineral water and any other barang barang as the floor is dirty.
You can discard after each use and take a new pieces every time you come.
▪ Mineral Water & Snacks
When you are thirsty and hungry… especially if your nearby has no shops which you can easily buy food from.
▪ Pail
You need to pour the water in the washroom' floor to check if the water will flow to the intended outlet.
▪ Torchlight
For checking dark corners of the house. Sometime, you will check until sunset and this will come into good use.
▪ Curtain rod and cloth (Optional)
If your house does not comes with the toilet door, you will need a temporary door solution since you will need to use the toilet. What I did was smart I thought, I took a curtain rod and old curtain cloth and use them as a temporary door.  If you don't have old curtain cloth, you can get a big cloth and some safety pin instead. The curtain rod can be purchase cheaply from Daiso.
▪ Toilet rolls and tissue box
To wipe your hands or any stains.
▪ Soap & Towel
Your hands get dirty so yah…
▪ Camera (Optional)
Remember to take picture after you labels all the defects. This is to check the before and after the rectification are made. You can use your mobile phone camera though, but use a higher resolution camera if your mobile phone's camera isn't.
▪ Measuring Tape
In case you need to measure anything.
▪ Paper and Pencils
In case you need to write any notes.
▪ Fiber Broom  and Dustpan
To sweep the floor. Get those with hard bristles one. You can get it from Daiso.




5. TIPS & ADVICE



Here's some tips & advice I hope you peeps should know after I had done my HDB defect check, so no one will ever repeat the same mistakes as we do.
BATHROOMS
Tips 1. Check the Bathrooms first when sufficient lights are still presence
We start from the bathrooms first since there is still sufficient lights coming in the noon time. I mean the bathrooms are usually the darker areas and you don't want to end up checking during late noon or evening.
Tips 2. Always check items that are wrapped in plastic sheets
Yes, I know they are new. But always remove the plastic sheets and check for defects too. We found out that both the toilet seat covers are heavily scratched even they are wrapped!
Totally unacceptable.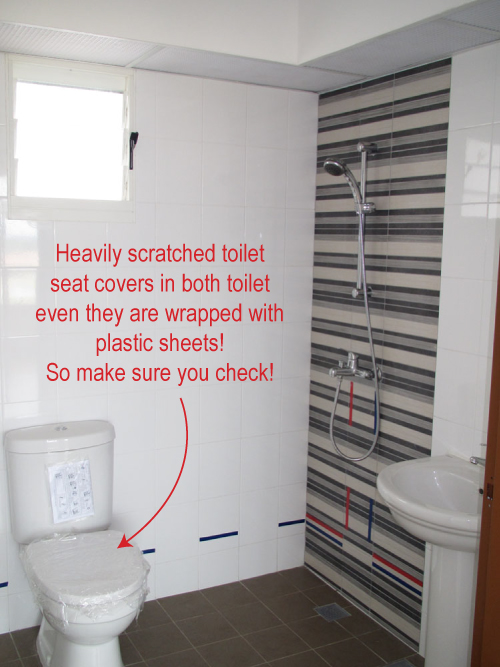 Tips 3. Make sure your shower head lever can be adjusted
We never thought of checking on this one since it's also not written in the defect checklist, so we only realized the defect only after we moved in for 1-2 weeks. =(
So make sure you check!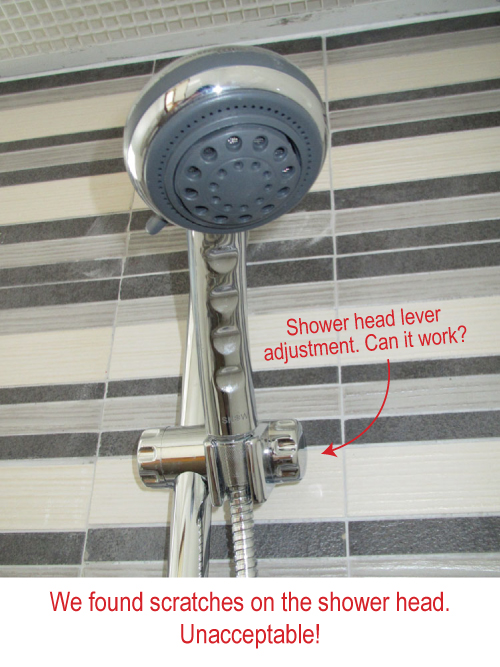 BEDROOMS
Tips 4. Be more forgiving to the parquet flooring
This is very individual preferences. I'm not sure about you but I don't really fancy parquet flooring as it is hard to maintain. So I'm not surprise to see some scratches or dents here and there. Moreover, my partner and I wasn't really very particular about these as we anticipate more scratches after the renovations works especially with kids around, so we only report those serious defects.
Besides, we have seen many couples complaining that their flooring only get worse after the replacement is done so we are withdraw to the idea of having the parquet flooring replace.
Tips 5. Check the windows carefully
Safety comes first, make sure the glass panels are installed properly. Besides that, always make sure the window lever can be open smoothly as we found out a couples of the window lever is quite stiff to use.
To add, we found a flawed in one of the window panel, there's a wavy bubble inside and we ask for the replacement as we are unsure if it will break next time.
We have nice views in all 3 bedrooms!
Hoohoo~~~
STOREROOM
Tips 6. Can the door handle be locked and any rust?
The storeroom door handle can be locked by turning it up ways. We only found this flaw after one of our neighbor shows us, so make sure yours can be locked.
As there is always a foul smells coming out from the storeroom even after staying for years, we always forbid her to open the storeroom as she always try opening it.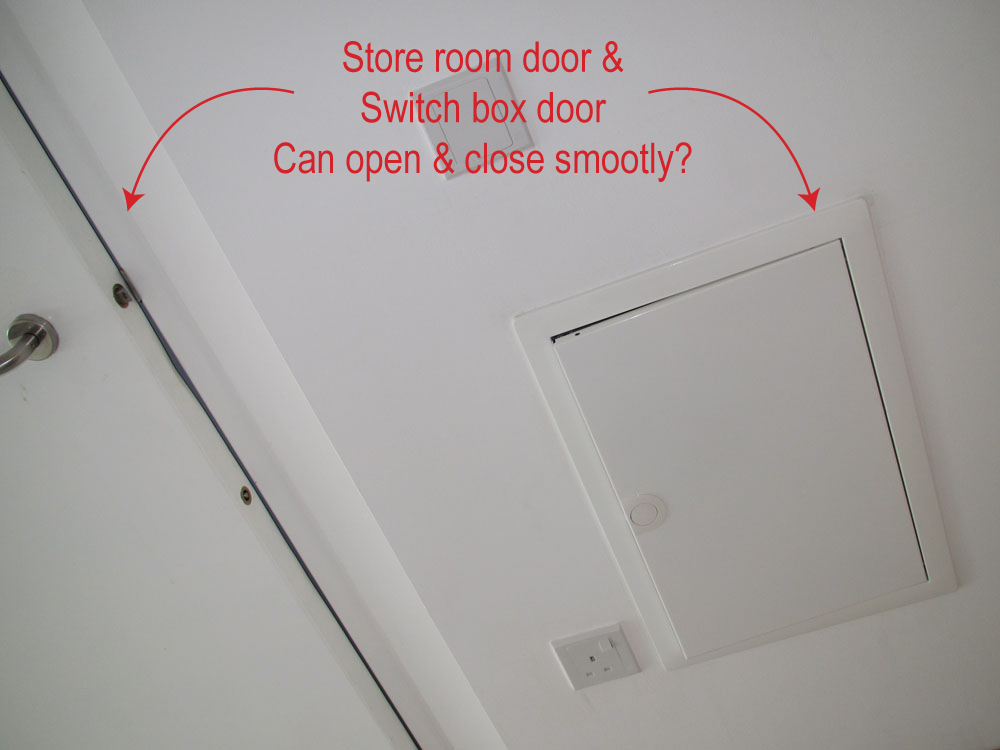 Tips 7. Balcony drainage installed properly?
We have a balcony and we found that the drainage panel is laying on the floor instead of the installing it on the wall.
This is how it should look like after we installed it back our self.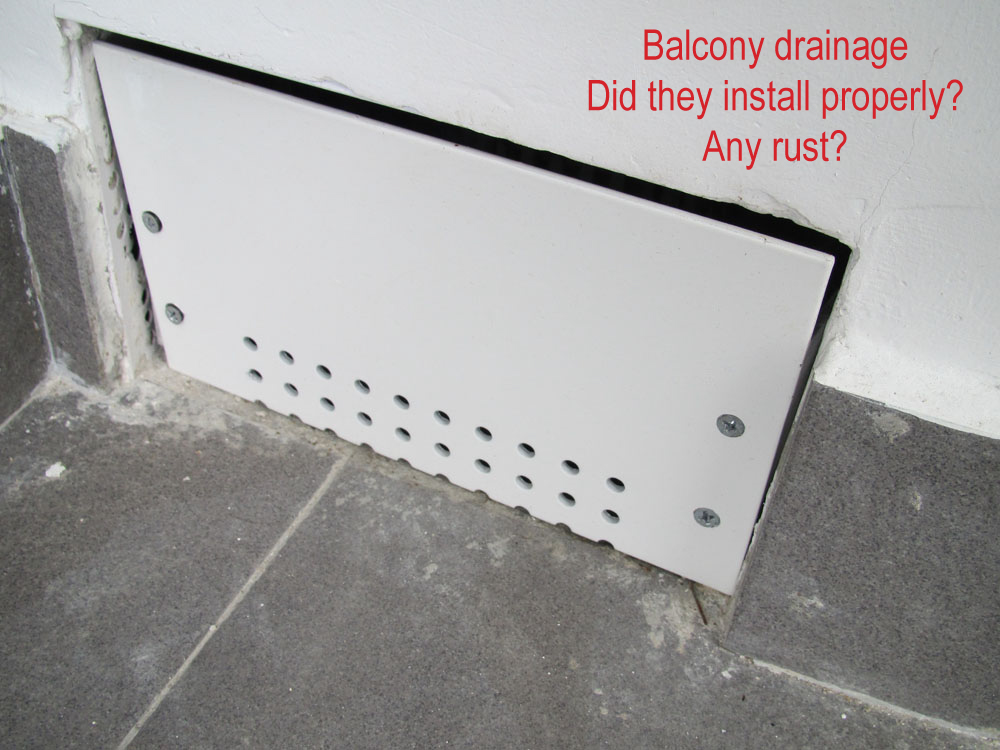 KITCHEN
Tips 8. Report if you are unsure
Well, we are not professional and so we marks those BIG "X" on the wall tiles which we thought it might be hollow. Better to be safe than sorry…
Funny thing is we end up hacking both the walls and custom build shoe cabinet and kitchen cabinet back to back. 
LIVING ROOM
Tips 9. Get a tapping rod to check the floor tiles
We did a mistake of using a very short rod and coin to check which is very tedious works, so please get a tapping rod to check the floor tiles! We end up having to take turns massaging one another.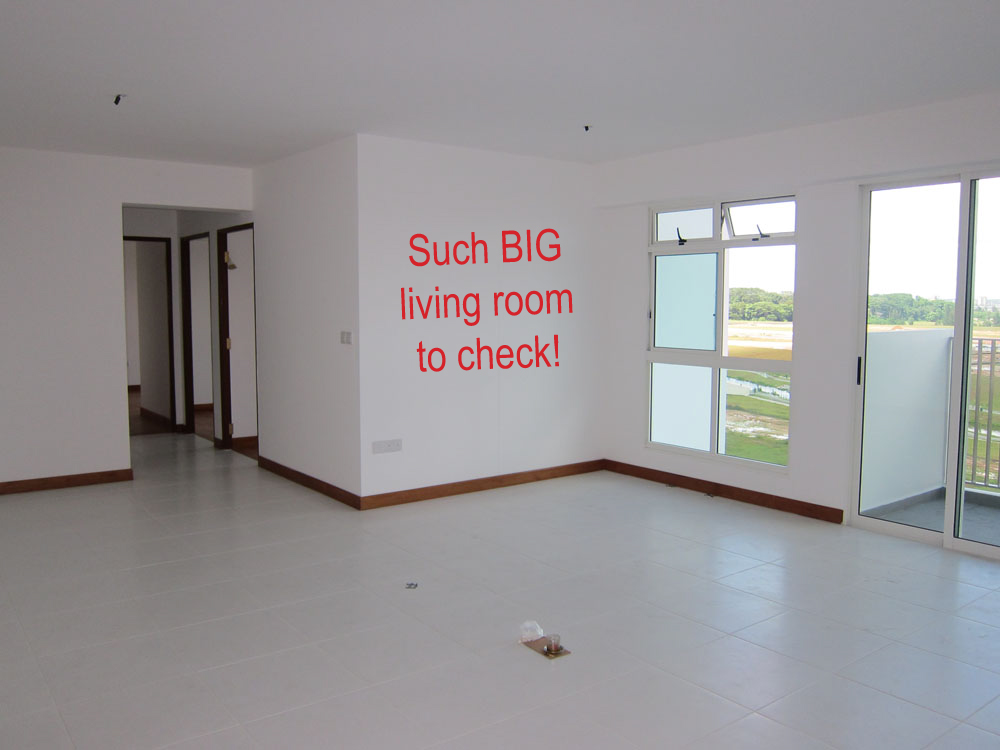 Luckily, we found only a few chipped floor tiles. Box up with coloured tapes and not white masking tapes!! It's hard to find.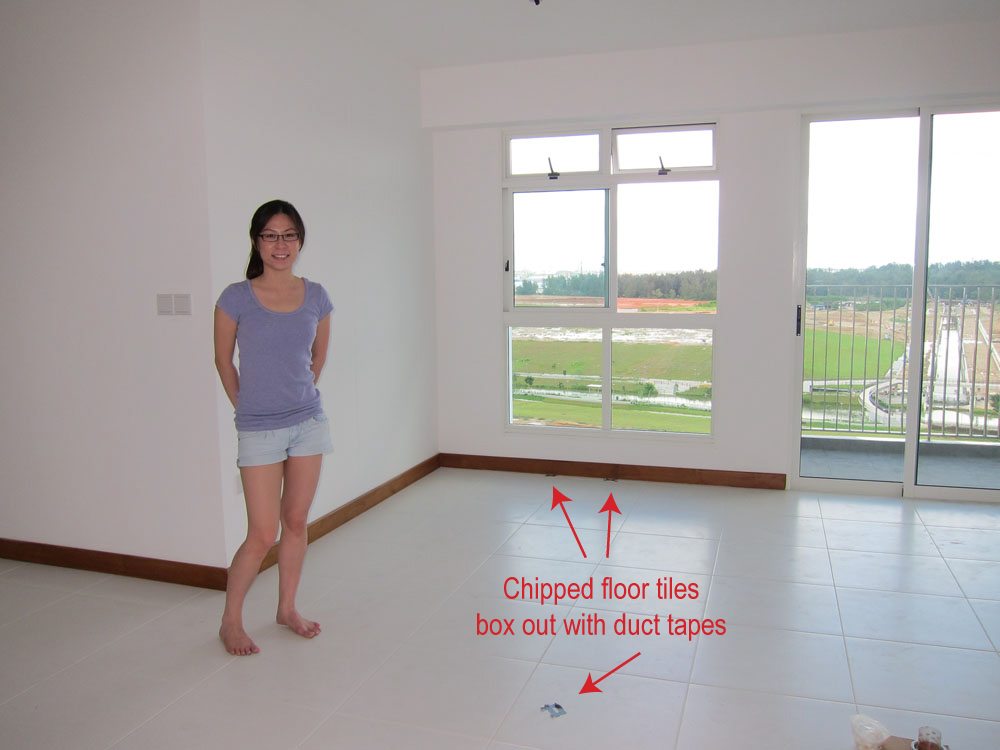 Tips 10. Bring all the tools, water and snacks
Make sure you packed your HDB defect barang barang like you are packing your survival kit bag.
You will find that what you have packed will be gems and comes to good use especially if you are living in isolated places with no other shops nearby.

So are you ready to check your house with the HDF defect checklist?
If you have friends or neighbours who are getting their keys soon, share this articles with them.
They will be glad and thank you for that.
Download your HDB defect checklist HERE if you have not done so.